| | |
| --- | --- |
| 이름 : | 김준 |
| 직함 : | 정교수 , 연세 이윤재 펠로우 |
| 이메일 : | jkim2@yonsei.ac.kr |
| 전화 : | 02-2123-5682 |
| 연구실 : | 대기복사 연구실 / 과학관 545호 |
| 웹페이지 : | http://atrad.yonsei.ac.kr |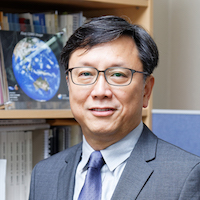 연구분야
대기복사
대기환경, 기후변화
위성원격탐사
에어러솔 및 미량기체 원격측정 및 분석
학력
Ph.D. (1991) 미시건대학교 (앤아버), 공과대학 대기.우주과학
M.S. (1987) 미시건대학교 (앤아버), 공과대학 대기과학
B.S. (1986) 서울대학교 자연과학대학 대기과학
경력
2003 - 현재 : 연세대학교 대기과학과/지구환경연구소 교수, 연세 이윤재 펠로우
1991 - 2003 : 한국항공우주연구원(KARI) 책임연구원, 선임연구원
2021 - 현재 : 한국과학기술한림원 이학부 정회원
2021 - 2022 : SAIT(삼성종합기술원) 미세먼지연구소장 겸 탄소포집연구소장
2017 - 2020 : International Radiation Commission (IRC) 위원
2017 - 현재 : WMO (세계기상기구) GAW Urban Research Meteorology and Environment (GURME) 과학기술자문위원
2016 - 2017 : Harvard Smithonian Center for Astrophysics, Atmospheric Measurement Group 방문과학자
2014 - 2017 : WHO (세계보건기구) Global Platform for Air Quality and Health, 자문위원
2012 - 2020 : 환경위성탑재체알고리즘개발 연구단장, GEMS (Geostationary Environment Monitoring Spectrometer) Mission
2010 - 현재 : CEOS (Committee on Earth Observing Satellites) AC-VC 위원
2009 - 2010 : NASA Jet Propulsion Laboratory/CalTech 과학기술고문, 미국 UCLA 객원학자
수상
2020, 2019, 2013, 2012 : 연세대학교 우수강의 교수상

4 : 정부 과학기술 포장

2 : 과학기술정보통신부 한국연구재단, 이달의 과학기술인

1 : 연세대학교 공헌교수상

6 : NASA Group Achievement Award
담당 과목
논문
Kim, J., and Coauthors, 2020: New Era of Air Quality Monitoring from Space: Geostationary Environment Monitoring Spectrometer (GEMS). BAMS, 101, E1–E22, https://doi.org/10.1175/BAMS-D-18-0013.1.
Kim, J., M. Kim, and M. Choi (2017), Monitoring Aerosol Properties in East Asia from Geostationary Orbit: GOCI, MI and GEMS, 'Air Pollution in Eastern Asia: An Integrated Perspective', Chapter 15, 323-334, ISSI Scientific Report Ser. Vol. 16, edited by Idir Bouarar, Xuemei Wang, and Guy Brasseur, Springer, 504pp, ISBN:978-3-319-59488-0, DOI: 10.1007/978-3-319-59489-7
Choi, M.J., Jhoon Kim, Jaehwa Lee, Mijin Kim, Young-Je Park, Brent Holben, Thomas F. Eck, Zhengqiang Li, Chul H. Song (2018), GOCI Yonsei aerosol retrieval version 2 aerosol products: improved algorithm description and error analysis with uncertainty estimation from 5-year validation over East Asia, Atmospheric Measurement Technique, 11, 385-408 10.5194/amt-11-385-2018
Jeong, Ukkyo, Jhoon Kim, Hanlim Lee, Yun Gon Lee (2017), Assessing the effect of long-range pollutant transport on air quality in Seoul using the conditional potential source contribution function method, Atmospheric Environment, 150, 33-44, doi: 10.1016/j.atmosenv.2016.11.017.
Kim, J., J. Lee, H.C. Lee, A. Higurashi, T. Takemura, and C.H. Song (2007), Consistency of the aerosol type classification from satellite remote sensing during the ABC EAREX campaign, J. Geophys. Res., 112, D22S33, doi:10.1029/2006JD008201
Kim, J., C.J. Park, K.Y. Lee, D.H. Lee, Y.O. Kim, H.K. Cho, G.R. Cho, and J. H. Park (1997), Rocket soundings of ozone profiles in the stratosphere over the Korean Peninsula, J. Geophys. Res., 102, 16121.