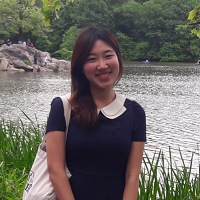 연구분야
Data assimilation
Regional reanalysis
학력
Ph.d (2020) in Atmospheric Sciences, Yonsei University, Seoul, Korea
M.Sc (2013) in Atmospheric Sciences, Yonsei University, Seoul, Korea
B.Sc (2011) in Atmospheric Sciences, Yonsei University, Seoul, Korea
수상내역
논문
He, J., F. Zhang, X. Chen, X. Bao, D. Chen, H. M. Kim, H.-W. Lai, L. R. Leung, X. Ma, Z. Meng, T. Ou, Z. Xiao, E.-G. Yang and K. Yang, (2019): Development and Evaluation of an Ensemble-Based Data Assimilation System for Regional Reanalysis Over the Tibetan Plateau and Surrounding Regions, Journal of Advances in Modeling Earth Systems, 11, 2503-2522.
Yang, E.-G., and H. M. Kim, (2019): Evaluation of short-range precipitation reforecasts from East Asia Regional Reanalysis, Journal of Hydrometeorology, 20, 319-337.
Yang, E.-G., and H. M. Kim (2017), Evaluation of a regional reanalysis and ERA-Interim over East Asia using in situ observations during 2013-14, Journal of Applied Meteorology and Climatology, 56, 2821-2844.
Yang, E.-G., H. M. Kim, J. Kim, and J. K. Kay (2014), Effect of observation network design on meteorological forecasts of Asian dust events, Monthly Weather Review, 142, 4679-4695.
Kim, H. M., J. K. Kay, E.-G. Yang, S. Kim, M. Lee (2013), Statistical adjoint sensitivity distributions for meteorological forecast errors of Asian dust transport events in Korea, Tellus B, 65, 20554.