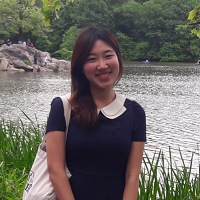 연구분야
Data assimilation
Regional reanalysis
학력
M.Sc (2013) in Atmospheric Sciences, Yonsei University, Seoul, Korea
B.Sc (2011) in Atmospheric Sciences, Yonsei University, Seoul, Korea
수상내역
2012 봄 기상학회 대기역학분과 우수논문 발표상 (한국기상학회, 2012년 5월 11일)
논문
Yang, E.-G., and H. M. Kim, (2019): Evaluation of short-range precipitation reforecasts from East Asia Regional Reanalysis, Journal of Hydrometeorology, 20, 319-337.
Yang, E.-G., and H. M. Kim (2017), Evaluation of a regional reanalysis and ERA-Interim over East Asia using in situ observations during 2013-14, Journal of Applied Meteorology and Climatology, 56, 2821-2844.
Yang, E.-G., H. M. Kim, J. Kim, and J. K. Kay (2014), Effect of observation network design on meteorological forecasts of Asian dust events, Monthly Weather Review, 142, 4679-4695.
Kim, H. M., J. K. Kay, E.-G. Yang, S. Kim, M. Lee (2013), Statistical adjoint sensitivity distributions for meteorological forecast errors of Asian dust transport events in Korea, Tellus B, 65, 20554.